Perry Van Der Beck, Executive Vice President, Technical Director and Director of Player Development for the Tampa Bay Rowdies, has lived in Tampa for most of the last 30 years. But the native St. Louisan rarely misses a chance to talk up his hometown.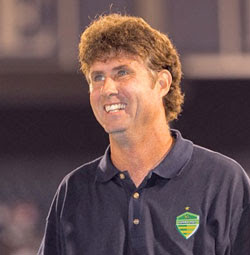 "I can reminisce with anyone on the planet about St. Louis and St. Louis players," Van Der Beck said.
There is much to remember about his career after St. Louis: first high school player to be drafted by a club in the old North American Soccer League; National Team standout; U.S. Soccer Athlete of the Year. But Van Der Beck will spend at least as much time, or more, talking about "watching Dave Berwin and Big Four Chevrolet, Pat Leahy, Bob O'Leary, Al Trost and Pat McBride. That's where I learned, from watching them."
Soccer people in Tampa will tell you that they learned the game from watching Van Der Beck. He came directly from Aquinas High School in Florissant to play for the Rowdies as an 18-year-old midfielder in 1978. He logged 12 seasons with various pro outdoor and indoor teams in Tampa over a 20-year playing career that included one stop with the old indoor St. Louis Steamers. He also coached pro sides in Tampa, including the old Tampa Bay Mutiny in Major League Soccer.
St. Louis hasn't forgotten Van Der Beck, either. He was inducted into the St. Louis Soccer Hall of Fame last November.
These days, Van Ber Beck is the executive vice president, technical director and director of player development for the Tampa Bay Rowdies in the second-division North American Soccer League. Translation: Van Der Beck is busy rebuilding what was a much-beloved Tampa institution in the old NASL. At their peak of popularity, the Rowdies averaged more than 23,000 fans for three consecutive seasons.
The current franchise had to operate as "FC Tampa Bay" until settling a rights dispute with an apparel manufacturer last December. The newly branded Tampa Bay Rowdies open their third season on April 7. Perhaps their best player is St. Louisan Mike Ambersley, a forward who was named to the NASL Best XI in 2011. Ambersley signed a three-year deal with the Rowdies last month.
The new Rowdies are nowhere near the old Rowdies in attendance. Al Lang Stadium, the Cardinals' old spring training headquarters and current Rowdies home, holds only 7,000. Still, the Rowdies are beginning their third season in a city with no soccer tradition comparable to that of St. Louis. The contrast between St. Louis, without a pro soccer club, and the 28 U.S. and Canadian cities with MLS and NASL franchises, is an old and festering sore among the St. Louis soccer faithful.
Van Der Beck is no exception. "The thing about St. Louis is it has a great player development system and has had for a long, long time," Van Der Beck said. "I came to the Rowdies in 1978 and Tampa didn't even have high school soccer until 1980. By that time, St. Louis was already turning out guys like David Brcic, Ty Keough, Steve Pecher, and on and on, who were playing in the old NASL. Now, you've got an academy (St. Louis Scott Gallagher) and you've even got a guy in the English Premier League (Bolton's Tim Ream.) The feeder system is there.
"St. Louis needs someone to step up to the plate, someone with a passion to get something started."
The last person to try, Jeff Cooper, saw the St. Louis Athletica fold early in their second season in Women's Professional Soccer and AC St. Louis last only one year in the men's second division. The demise of both teams was attributed to the bailout of financial investors from England. Still, says Van Der Beck, "There should be a men's and women's pro team in St. Louis."
How to do it, when no one seems eager to carry the flag since St. Louis' last fling with pro soccer in 2010? Based on his background as a player, coach and executive, Van Der Beck offered suggestions:
•"You need to partner with the local youth clubs.
•"Use that partnership to build support. Get a petition from 10,000 people for season-ticket commitments. If you can say, 'We've got 10,000 season tickets, we just need a franchise,' the pro leagues will take notice.
•"For now, you've already got something there (the St. Louis Lions in the Premier Development League, the fourth tier of U.S. men's soccer.) Put a little money behind it and go to the NASL. That's a start."
Once fervently courted by MLS when Cooper sought a franchise with a plan to build an 18,000-seat stadium in Collinsville, St. Louis is no longer mentioned in MLS expansion plans. The league has long said that New York will receive the next, and 20th, team. Beyond that, the latest speculation for prospective MLS cities includes Orlando, Miami and Minneapolis-St. Paul. The cost is staggering: Expansion franchise fees are well north of $45 million, and MLS requires new teams to lay firm plans to build soccer-specific stadiums. The newest, BBVA Compass Stadium in Houston, opens soon with a price tag of $105 million. Livestrong Stadium, home of Sporting KC, cost almost twice that.
Van Der Beck says that the NASL, although second-division, is a stronger option for cities such as St. Louis, which lack big bucks and big stadium plans. The expansion franchise fee for an NASL team is reported to be $1.5 million, and stadium requirements are far more lenient. The Soccer Park, which was home to the Athletica and AC St. Louis, seats about 6,000 and meets NASL stadium standards. The Soccer Park is in the midst of extensive renovations that will make it an attractive home for women's pro and men's NASL teams. The main stadium field is being converted to artificial turf and a state-of-the-art scoreboard will replace the aging board at the stadium's south end.
Other existing facilities that could serve as NASL homes are Hunter Stadium (7,500 capacity) at Lindenwood University and Hermann Stadium (6,000 capacity) at St. Louis University. Unlike the Soccer Park, issues could arise at Lindenwood and St. Louis U. The NASL regular season runs into late September, well into the college season, and potential beer sales at pro games on a college campus could cause concern.
The second-division business model compares favorably with the MLS plan, according to Van Der Beck. "You give MLS $75 million (for an expansion team), and you don't even own the players," Van Der Beck said. "You're paying MLS to basically run the league. With the NASL clubs, the owners are in charge and it's like business in the rest of the world: You can buy players, you can develop players, and you can sell them."
Soccer at any level is not a money-making proposition. The old joke still holds: "How do you make a million dollars in soccer? Start with 10 million."
But even that is improving. The MLS is averaging 20,000 fans per game so far this season. In the last few years, teams in Montreal, Portland and Vancouver followed the second-division model, built their financial and fan base, and moved into MLS. Buoying the prospects of such franchises, and of securing potential investors for a St. Louis team, is a recent ESPN/Luker poll that found professional soccer is the second-favorite sport (behind the NFL) among Americans ages 12-24. And there is a ready-made fan base in St. Louis. At least 40,000 kids play Catholic Youth Council and club soccer, and it's anybody's guess how many hundreds of thousands in the St. Louis area played in the city's deeply entrenched, 130-year-old organized soccer leagues as kids and young adults.
"The thing is, you've got to start somewhere," Van Der Beck said. "The players and the history are there in St. Louis, and the time is right. Soccer is only going to get bigger."
~~~
Dave Lange has been writing about soccer in St. Louis since the early 1970s. His pieces on the sport have appeared in publications such as The Sporting News, Soccer America magazine, World Class Coaching magazine, the St. Louis Globe-Democrat and the St. Louis Post-Dispatch. Lange was a member of the sports staff at the St. Louis Globe-Democrat from 1976-84 and worked in corporate communications at three Fortune 500 companies. He retired from Anheuser-Busch Companies, Inc., in 2008 and is an adjunct instructor in the School of Communications at Webster University. Perhaps Lange's greatest contribution to the sport is his recently published book, Soccer Made in St. Louis. An IMS review of Lange's excellent book can be found here.