The University of Minnesota women's soccer team qualified for the Sweet 16 round of the NCAA playoffs after defeating Texas A&M on Sunday by a score of 2-0. While it's not the first time the team has made it to the round of 16 it is the first time they've been host to the game. The NCAA made it official on Monday and the Gophers will host the game at 1:00 p.m. this Saturday, November 20th at Elizabeth Lyle Robbie Stadium.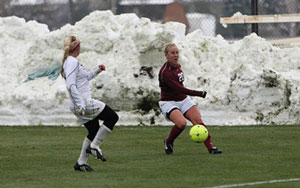 The Gophers will try to to capitalize on the cold and snowy home field advantage on Saturday when they take on the Georgetown Hoyas at Elizabeth Lyle Robbie Stadium.
The Gophers (15-5-3) and on a 5-game unbeaten streak will take on Georgetown (14-6-2) who are 2-1-2 in their last 5 games. Both teams seemed very evenly matched with similar win-loss records, save percentages (.795 to .719), shutout percentages (.364 to .364), goals against averages (.743 to .792) and goal per game (1.95 to 2.18). Both teams come into the game as unseeded teams in the bracket and each upset their seeded opponent in the round of 32. Georgetown defeated #1 seeded Maryland in penalty kicks. Saturday's game will mark the first-ever meeting between the two teams.
Minnesota will certainly take the cold weather advantage into this game just as they did on Sunday's game against the Aggies. The long range forecast for Saturday is partly cloudy and the high at game time should be around freezing. Temperatures at the Hoyas campus this week should be around 60°.
Molly Rouse
Senior midfielder Molly Rouse will miss Saturday's game because of her two yellow cards in Sunday's game that got her ejected from the game. She will serve a one game suspension. Rouse has never missed a game in her Gopher career up until this point. The suspension will snap a streak of 87 consecutive games played for Minnesota.
Katie Bethke
Katie Bethke was honored by two different sources after this weekend's pair of games. The Eau Claire, Wis. native was named a member of TopDrawerSoccer.com Women's Team of the Week and was also deemed a CollegeSoccer360.com Primetime Performer of the Week. Bethke tallied two goals against Creighton on Friday including the game winner and added a third goal against Texas A&M. She is currently tied for the NCAA tournament lead with three goals and eight shots on goal.
Bethke's 13 assists this season have lifted her to second all-time with 32 career assists. Bethke also ranks among the top ten in school history in career points (84, 5th), goals (26, 8th) and shots (194, 6th). She also is tied for fifth most assists in the nation.
Coverage
Saturday's game will be streamed free of charge in the Gold Zone on Gophersports.com (weather permitting). Live stats and a running game blog will also be available all season long at Gophersports.com.
Kyle Nelson will be covering the game for IMS and Jeremy Olson will again be shooting the game. If you've not yet seen Jeremy's excellent photo set from the Gophers game against Texas A&M, you can see the whole set of photos here on IMS's Facebook page. Don't forget to "Like" IMSoccer News on Facebook.