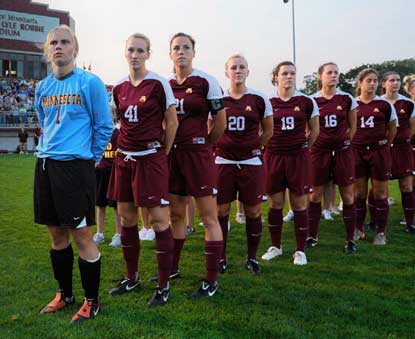 The University of Minnesota women's soccer team opens their Big Ten season tonight in Iowa City, Iowa. The Gophers, who are 8-1-1 in non-confreence play, will go up against the Hawkeyes, who are 7-2-0. Minnesota has traditionally had Iowa's number with a 9-2-1 record in 12 meetings between the teams.
With last week's 3-1 win over then 15th-ranked South Carolina and a 3-0 win over Illinois State, the Gophers finally broke into the top 25 ranked teams in the nation jumping from 26 to 18 in the NSCAA rankings.  The two wins last week also helped Forward Steph Brandt win Big Ten Freshman of the Week honors and senior midfielder Kylie Kallman to be named one of 12 Division I athletes to earn Primetime Performer of the Week from CollegeSoccer360.com.
Tonight's game will be live steamed via the Big Ten Network at 7:00 p.m. CT.  BigTenNetwork.com
The odds will be flip-flopped on Sunday when Minnesota returns home to make their 2010 home Big Ten debut against #15 ranked Illinois who hold a 8-5-2 record against the Gophers. However, the Illini have not beaten Minnesota since 2007 and are 2-4-1 at Minnesota. That game will be played at Elizabeth Lyle Robbie Stadium on the U of M St. Paul campus at 1:00 pm Sunday, Sept. 26.
More information on the Gophers' first two Big Ten games can be found at Gopher Sports.com.