A young man is picked up in a chauffeured Rolls-Royce to sign a new contract at the age of 19 and who shortly thereafter was keeping company with international football/soccer stars. Jumpcut thirty years later to see that same man driving a school bus that's seen better days (better decades, actually) full of unheralded young soccer players. A common reaction to these two stories about the same individual could be this was another tale of the excesses of fame bestowed on someone too young to handle it. Instead it's the story of Tony Glavin, his soccer organization and his PDL St. Louis Lions. Success is measured in different ways by different people, but no matter how you cut it this story is a tale of success.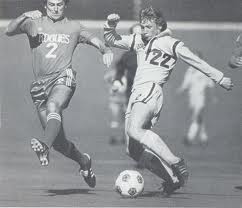 Last week IMSoccer News reported that the St. Louis Lions had announced an official partnership with fabled soccer club Glasgow Celtic F.C. The affiliation is the culmination of Tony Glavin's dream, to partner with the iconic team of his Glasgow youth, a team his older brother played for and whose pride, tradition and sense of community he so thoroughly absorbed that he incorporated it into every fabric of his being.
After a two-hour meeting with Lions' fans and club members last Monday, Glavin, a former pro in the NASL 30 years ago, was asked about the significance of the new partnership. Glavin responded, "There are always milestones in your career, and this certainly tops it. It's just not something that I ever imagined would happen. But to be associated with Celtic football club, and to be able to bring them to St. Louis, is a very special thing."
After Glavin was Rolls-Royced to his signing with the Philadelphia Fury in 1978, the teenager spent three years in the NASL playing against many of the true superstars of the game — players like George Best, Johan Cruyff and Franz Beckenbauer. Although he scored the first and final goals in the Fury's three-year history, Glavin turned to the indoor game with the St. Louis Steamers to make a living and starred for the St. Louis Steamers until injury hobbled him at age 25. That injury forced him to retire two years later.
During his playing years Glavin was always interested in player development and was constantly working to improve his own game by studying the latest techniques coming into the sport. He pestered Steamers coach Pat McBride to start a reserve side of young players to build up a talent base. So it was natural that Glavin eventually went into coaching after his playing days. Fortunate, too, because like so many young football talents of his day, Tony had quit school to commit himself to the game. He went to work in the Glasgow shipyards at 16 and tried his hand at becoming a professional player, which left him no education or degree to fall back on.
By 1994, Glavin had started his Tony Glavin Soccer Club in the Cottleville suburbs of the St. Louis metro area. The club has since grown to 40 teams, which includes young boys and girls ages 4 and 5, learning the basics of kicking and trapping the ball, all the way to young adults refining their skills. In 1995 he obtained a USL franchise in the Premier Development League.
The PDL began as the USISL Premier Development League in 1995 before adopting its current moniker in 1999. Over 64 amateur teams in the U.S, Canada and Bermuda currently compete in the fourth level summer league, populated mostly by college-aged players. It is the backbone of the American game, and one can judge its merit by simply noticing that six of the players on the USMNT Gold Cup roster this June played on PDL clubs earlier in their careers, as have many former U.S. internationals. (There are about five PDL clubs that have taken advantage of the new PDL PRO program, where players receive some financial compensation).
The Unglamorous World of the PDL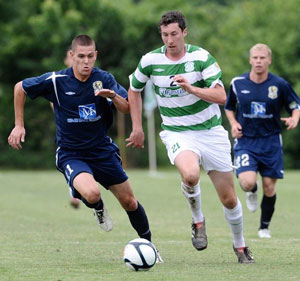 The everyday world of the PDL is light-years away from the world of international superstars, Rolls-Royces and glamor. Crowds at most PDL games are counted in the hundreds, not the thousands (and sometimes not in even in the hundreds). Media attention is rare, and the family atmosphere has at least something to do with the fact that many PDL players board with "adoptive" families while spending the summer playing PDL ball before heading back to college in the fall.
Glavin made the transition from the world of elite soccer to the more humble PDL with ease, perhaps because there really was no transition. When you love the game so much, it really doesn't matter whether you're marking a Brazilian World Cup star or a kid 30 years younger who thinks he can fake the old man out of his boots in a scrimmage.
Tony was born with a coach's soul and his career experiences reinforced the teaching facility that comes so naturally. "I once had a coach, and I learned a great lesson. This one coach told me that 'I only want to coach good players.' And I thought, if I have all good players, do they really need me as a coach? That's when I decided I wanted to coach."
Glavin continued, "I'm with the belief that I want to take a player who needs help, and help him be a better player. Part of coaching is making players better, and part of that is bringing the chemistry of different players and making them gel. That's the thing that is very satisfying, when you see that clicking."
Glavin has a natural affinity for players who are overlooked and are late bloomers. Perhaps because he was one himself. "In Europe, at the U-15 level, I couldn't compete physically. But by the time I hit 18, I was practicing and playing with professionals. And that happens here, too. Division I schools are looking at players at the age of 16, so if they haven't 'made' it by then, chances are that those players will be passed by. And as a result, some of those players go to smaller schools, but that doesn't make them any less of a player. "
Success can be measured easily when you see an individual doing something they truly love. "Coaching, to me, the beauty of it, is being to take players of different talent levels, different cultures, and blend them. To me, that's what coaching is all about," Glavin reflected.
The love of teaching the game, giving back to the game and blending players of character from diverse backgrounds emanates from Glavin's belief system and leadership that he picked up 40 years ago near the environs of Celtic Park and permeate the atmosphere at the Lions' complex. A quick look at the roster shows young players from the Midwest, Scotland, Brazil, England and Honduras. Kids who play at community colleges and small colleges that you may never have heard of.
Despite the lack of a big budget, the team stresses a sense of professionalism in training, including nutrition and fitness so the players learn what is necessary to earn a paycheck playing the game they love.
But it's not all serious business. The players also learn to have fun, even while dealing with adversity. After a roadtrip to Colorado two years ago, Glavin suffered a painful foot injury and was dreading the fourteen hour return trip home. So he cranked up the music in the van and he and the players sang for about 8 hours of the trip, helping him get through the grueling journey. That memory prompted Lions' GM Jim Shipley to mention the story of the "clutch." Driving up to Ontario for a match against Thunder Bay, Tony noticed the clutch on the "less than new" team bus didn't feel right. They made it up there, but the return trip home was a quite daunting as the clutch got progressively worse until a hose burst. A combination of tape and players' socks were part of the repair tools as the bus limped back home.
Heartland Competition
The Lions compete in the PDL's Heartland Division, and although there is a great deal of emphasis on teaching players and raising their skills, don't think that the games aren't competitive. Six hours north of St. Louis lies Valley Stadium, home of Heartland rivals the Des Moines Menace. The Menace are in their 18th season of competition, and according to GM Todd Meiners, are averaging an incredible 3,324 fans per game this season. This is nothing new for the Menace, who annually lead the PDL in average attendance – the overall average for PDL games over the last years is about 500 per match. Meiners added that "we have fantastic support from our sponsors and work to create a great fan experience. Whether it be free t-shirts, the mascot, contests, inflatables, or post-game autographs we provide something fun for all fans. Des Moines sports fans provide great support to our local teams including four other minor league clubs." The Menace have had over 50 players sign professional contracts.
The Des Moines Director of Operations, Adam Small, added that "The Lions have become quite a rival for us, and we have a lot of respect for Tony Glavin and Jim Shipley, who are also great people."
The Menace have knocked the Lions out of qualification for the US Open Cup the last two seasons, but it was the Lions who gained entry in 2009. Up until this season the league rivalry was evenly split over 18 matches. This year the Menace have won the first two matches against the Lions.
Team Effort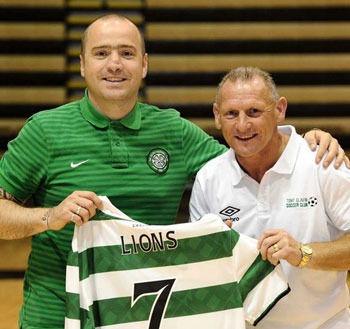 Although the Lions are Tony's creation, he obviously hasn't built the organization by himself. GM Shipley is the kind of man who works from sunrise to midnight during the season after putting in a full day at his 'real' job with a major local corporation. Lions' assistant coaches and numerous youth coaches do their part, as well as the front office personnel, in trying to raise awareness of the Lions in the community.
The Lions have also gained the unified backing of the Saint Louligans, a local soccer supporters group who are putting a lot of effort into getting more fans to Lions' games and amping up the atmosphere. Attendance at Lions' games has improved in 2011, with their last home match drawing over 800 fans.
Saturday, July 2, the Lions played another rival, the Kansas City Brass, at Lindenwood University. That game ended in a 1-1 draw and drew 740 fans.
Listen to the complete audio interview with Greig Robertson of Celtic Football Club who talks about his club's new relationship with Tony Glavin Soccer Club. Standard Podcast [ 7:04 ] Hide Player | Play in Popup | Download