Writer Jerrod Roh will provide coverage, analysis, and opinion for the 2011 Women's World Cup for IMSoccer News. He has attended the last 3 men's World Cups in South Korea, Germany, and South Africa as well as the 2003 Women's World Cup in the U.S. He is a self-described fan, student, and teacher of the game.
Report Card
Back by popular demand – I got a little feedback that some missed the grades after the US loss to Sweden.
GK – Hope Solo – A – What can I say? Hope saved us once, but had it ripped away from her, and then saved us again. Marta's 2nd goal was special. Maybe Hope could have cut a little angle once it was coming in so low and been in a position to tip it from a position higher off her line. But Marta's finish was professional to say the least.
CB – Christie Rampone – A – Worked her tail off throughout the match to cover up anything in the back line. She was everywhere. When down a man and down a goal, Christie was often left by herself in the middle of the back line, as Boxx was floating between the back line and midfield.
CB – Rachel Buehler – C minus – We moved Rachel to the right side so that Rampone and Krieger – our two strongest defenders – were on either side of her. She seemed nervous again and failed to connect when playing the ball forward. The red card was tough. Marta made the brilliant "now you see it, now you don't move," and Buehler's lack of quickness hurt in that instant. But she tried to throw Marta off balance with her strength and paid the price. Some referees may not have called that, but it is Marta, and she is probably going to get that call no matter who is trying to hold her up. Rachel has consistently been our weakest defender and maybe the forced upcoming adjustment to the line-up will be a good thing.
RB – Ali Krieger – A plus – I am an Ali fan I guess. She is fast, smart, strong, goes forward well, tough in the tackle, connects, and is ICE when delivering the final PK to knock out Brazil. What more can one ask for out of a right back?
LB – Amy LePeilbet – A – What a performance by Amy! So happy for her! She displayed the aforementioned "bounce back ability" in my 2nd preview article. Coach Mikki would be proud. Amy was a major part in denying penetration down the left side. It helps when you have a speedy, confident, veteran center back playing next to you. But Amy did her part in shutting down Brazil and supporting in the attack.
CMF – Shannon Boxx – B minus – Shannon is a force. She plays with great versatility and was one of the keys to our team being able to manage going down a player. She roamed back and forth from our back line alongside Rampone to filling up in the middle of midfield when our team got the ball. When we went down a goal, she stayed a little higher and helped create pressure in the midfield so our back 3 did not have to deal with a ton of through balls, etc. If there was an American blunder on the day, it was when Shannon raised her arm and looked over her shoulder asking for the offside call when marking Marta in the box. Boxxy knows better and her error combined with a poor no-call and a brilliant finish put the U.S. down a goal in extra time. Converted her PK with confidence – well-taken.
CMF – Carli Lloyd – C – I am convinced that we must have a quicker, more athletic central player coming up the pipe in our national program. Golly – I sure hope so! There is no doubt that Carli has some SWAG and ability to play accurate, dangerous long balls. She converted her PK very well. She just doesn't provide us a link and connection enough in the attack. She is not disruptive enough defensively and doesn't cause enough turnovers in the middle. On a yellow card today, she could have easily earned a 2nd and been sent off after intentionally sticking her arm up to corral the ball. The ref gave the free kick and Brazil wanted the 2nd yellow given. That offense is usually a yellow. I think we were fortunate Carli did not cost us today. But I think a more organized possession style team with pace in the middle will cause us problems. Boxxy cleans a lot of this up when she is "on" like she was today. Carli was actually more effective when we went down to 10 players. Where is this effort and work rate when we are playing with 11?
RMF – Heather O'Reilly – B plus – Heather caused problems for Brazil and did plenty of work. We had some solid connection and penetration up her side. I would have liked to have seen her get faced up more in 1v1 situations, but some of that is not her fault.
LMF – Lauren Cheney – B – Pia pulled her early in the 2nd half. I am not sure why. I thought she was doing what she was supposed to – fly around the midfield and restraining line and cause havoc. Maybe Pia thought we needed to insert someone who was going to stay wide and be available to play through out there on the left side? I thought our attack lost a little bite when we took her off though.
F – Amy Rodriguez – C minus – A-Rod just did not have it today. I thought she or Lloyd should have been pulled instead of Cheney, but that is my take. Again, we all see the game differently. Amy had a lot of "donkey touches" today and could not seem to find the timing to get on the end of a dangerous pass nor lay a good tackle defensively. One thing about Amy though is she will come back and fight no matter how much she is struggling – a bit of nostril flair in that one.
F – Abby Wambach – A plus – OK – Abby scored the dramatic game-tying goal and just shined her superstar for that reason. But she also slashed the near post on the first goal, calmly scored her PK, and helped manage the game so the U.S. had maximum minutes to get the tying goal. Did you see her talking to the ref every time the Brazilians went down with an injury or were taking their time with something? We got 3 minutes of added time at the end of extra time and make no mistake, it helps when you have a player of Abby's stature badgering the referee about adding the appropriate time. When we were down a player and tied, Abby would flow from the midfield to the restraining line to help in both areas. Once Brazil went up, Abby stayed higher. But her leadership, work rate, and ability to cover ground today were equally important to our team's chances at victory as her play in front of the goal.
LMF – Megan Rapinoe – B minus – No doubt, Megan played a brilliant cross to Abby to score the instant classic goal. She also coolly hammered her PK in the shootout. But she was less than herself in defending, keeping possession, and finding ways to penetrate during her time on the field. If not for the late game heroics, Megan would have had a below average grade.
F – Alex Morgan – C plus– OK kiddo – time to start producing again. Our youngster always does well for her age, which is 22 years on this planet. But it is time for her to execute in behind the other team's defense and in the box again. She was the wonder kid hero in qualification, but that is in the past now. It would have been nice to see her get a few more minutes against the likes of North Korea and Colombia so that she would be more ready for the bigger match on this stage. One never has to question Alex's effort though. I think a big goal could still be coming for her at this World Cup.
RMF – Tobin Heath – B minus – Tobin has had limited minutes up to this point, so I think she did OK with that in mind. She gave us some new energy on the right to defend and connect. I know she did not blow past anyone a la Heather O, but when people are gassed, it is nice to have a player come in who can cover the space and connect. Tobin can be magic on the ball, but the opportunity did not present itself today.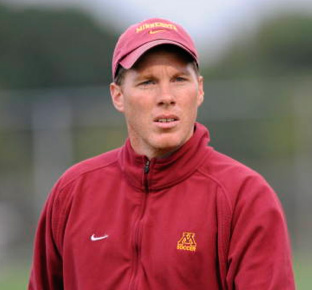 Jerrod Roh has served as an assistant coach for the University of Minnesota Golden Gophers Women's Soccer Team since 2007. He's also served as a Goalkeeping Staff coach for the US Soccer Region 2 ODP since 2005. Prior to coming to Minnesota, Roh spent three seasons at the University of Kentucky, serving as the top assistant while coaching the goalkeepers and serving as the program's recruiting coordinator. Roh attended Kansas State University and graduated in 1995. He was a three-year starter for the Wildcats. He holds a masters in business administration from Western Carolina. Currently he is coaching the U15 girls team for Eden Prairie Soccer Club.
Jerrod wrote a 3-part preview of the 2011 FIFA Women's World Cup for IMSoccer News. Those can be found here: Part 1, Part 2, Part 3.