Last Monday Inside Minnesota Soccer published photos taken by photographer Jeremy Olson that clearly showed Sandro Grande of the Montreal Impact choking fellow player Mauro Biello in an incident that went unnoticed by video cameras at the game and by the Impact coaching staff. The incident took place at the National Sports Center in Blaine, MN when the Impact took on the Minnesota Thunder on July 11.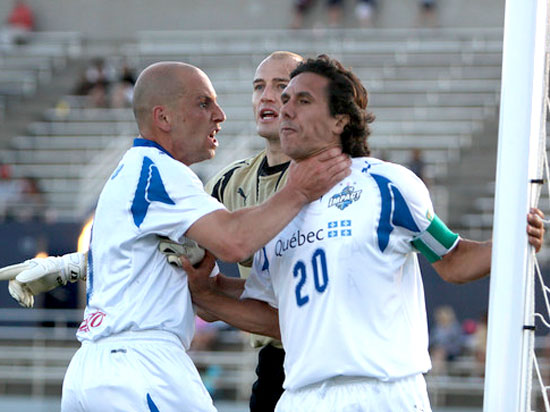 The IMS story and Olson photos raced across the continent and before long were picked up by the Canadian press who went directly to Grande and Biello for statements. Grande stated, "that this sort of thing happens everywhere in the world." He also stated that he and Biello were fine and they would be, "playing together on Wednesday at Rochester."
In the meantime, IMS made USL and the Montreal Impact aware of the incident.
Grande was of course wrong. It was not something that happens everywhere in the world and he did not start for the Impact that following Wednesday. Montreal suspended the midfielder who had started 9 of 14 games this season. Grande had also been suspended earlier in the season for misconduct by his own coach, John Limniatis, who was released by the organization earlier this season.
Inside Minnesota Soccer again contacted the Montreal Impact and Senior Director of USL-1, Chris Economides. The Impact told IMS that the player had been suspended indefinitely. When checking with Economides, he did not have an official statement but said the league was following up with Montreal to make sure the proper penalty was assessed. When I contacted Montreal and asked them why the length of the suspension time was not announced they did not respond for several days and when they did just referred to their original press release which was exactly what I was asking for clarification on.
Earlier in the year, Charles Gbeke and Wesley Charles, both players for the Vancouver Whitecaps, came to blows which earned them a suspension from the league and a fine from the club. So I asked Montreal why they would not disclose more information concerning their players. The team never responded.
Today the Montreal Impact released a press statement saying that they have released the 31-year-old Grande nine days after the attack on his fellow player.
"Sandro's act was completely unacceptable and our organization does not tolerate such behavior," said Impact owner Joey Saputo in a statement on Monday. "We have therefore taken the necessary disciplinary measures."

"Regardless of the circumst